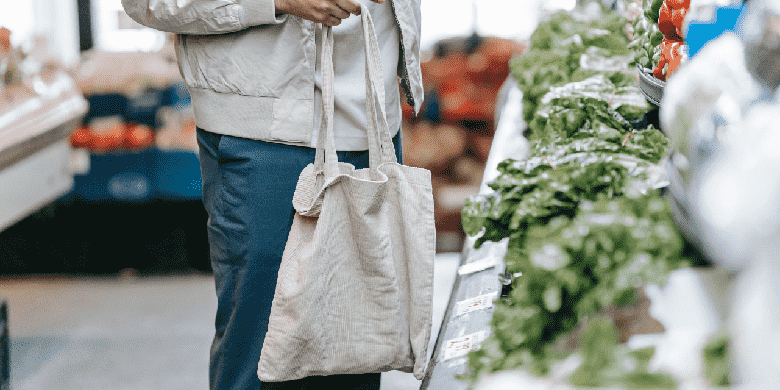 Get Shopping with Promotional Tote Bags
There is nothing better than a printed tote bag to become your promotional walking billboard. Every time someone uses them with your logo on the side, they advertise your business or cause. One of the best ways to push them in a promotional sense is to get one that is practical for people to take shopping. There has been a massive push in Australia to eliminate plastic bags from all forms of grocery shopping, which presents a great advertising opportunity for companies.
There are many options you can look at. First, there are lightweight foldable bags that fold down to pocket size and can fit easily into the glove box of a car. They are usually made from polyester and are robust enough to hold 4-5 kilos of groceries. You can then look at something more robust such as a calico or canvas bag. They have a large branding area, and the canvas bags are strong enough to hold up to 10 kilos of weight.
The premium style on promotional tote bags for shopping purposes are jute bags. They are eco friendly and are one of the strongest bags you can buy. They are slightly coarser, which means when printing, you want to avoid fine lines, but you also have a bag that will last for years, and the longer your bags last, the longer they advertise for you.
Another style of tote bag you could consider is one to keep groceries cold. Usually, they are zipper style at the top, but they can keep groceries cold for 3-4 hours, which is enough time to get from the shops to back home. There are many styles and sizes to pick from, but they will get plenty of use, which in turn means plenty of advertising.
When initially giving them away, they are the perfect item to have filled with conference material, or even as a goodies bag with lots of treats inside. They can be given out at trade shows where you can include samples of your goods or promotional material about your company. Everyone loves a bag as they are so useful in everyday living, so they make perfect sense to be on the top of your priority list regarding promotional merchandise. Get one side printed with your logo and perhaps the other side with contact details and a website. Make sure you use the entire printable area to make as significant an impact as possible.
If you are unsure which tote bag would be suitable for your promotion and one that people can use later for grocery shopping, send us an email or give us a call. We'd be happy to discuss and guide you to what would be the most appropriate bag for your company, club or association.